Bike Dual Functions Rotor Truing Tool Hydraulic Disc Brake Caliper Piston Press Reset Wrench Bicycle Repair Tool for – BIKE HAND >>> top1shop >>> tiki.vn
Bike Dual Functions Rotor Truing Tool Hydraulic Disc Brake Caliper Piston Press Reset Wrench Bicycle Repair Tool for
Disc brake rotor truing and caliper piston press 2 in 1 tool, great for mountain bike and road bike.
Features:
Dual-purpose bicycle repair tool, disc brake rotor truing tool and caliper piston press tool 2 in 1.
The rotor truing is designed with three slots at different angles for better adjustment of the bent rotors.
4mm thick stainless steel material, it is not easy to bend during use, and has a long service life.
Frosted non-slip handle, ergonomic design, comfortable grip, easy to use and labor saving.
The wedge-shaped design of the piston wrench makes it easy to slide into the narrow opening of the hydraulic calipers.
Specifications:
Material: Stainless Steel
Item Size: 260 * 55mm/ 10.2 * 2.2in
Item Weight: 239g/ 8.4oz
Packing List:
1 * Disc Brake Wrench
Giá sản phẩm trên Tiki đã bao gồm thuế theo luật hiện hành. Bên cạnh đó, tuỳ vào loại sản phẩm, hình thức và địa chỉ giao hàng mà có thể phát sinh thêm chi phí khác như phí vận chuyển, phụ phí hàng cồng kềnh, thuế nhập khẩu (đối với đơn hàng giao từ nước ngoài có giá trị trên 1 triệu đồng)…..
BIKE HAND
tiki.vn/bike-dual-functions-rotor-truing-tool-hydraulic-disc-brake-caliper-piston-press-reset-wrench-bicycle-repair-tool-for-p118783585.html
tiki.vn


Code Embed: No embed code was found for TOP1VIETNAM-tiki.vn
Code Embed: No embed code was found for TOP1VIETNAM-BIKE HAND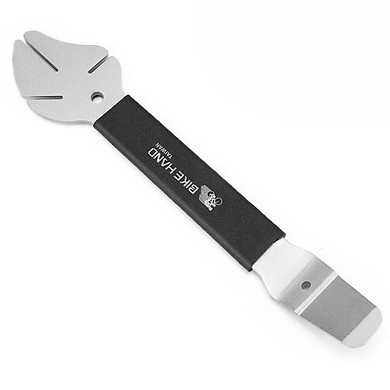 Bike Dual Functions Rotor Truing Tool Hydraulic Disc Brake Caliper Piston Press Reset Wrench Bicycle Repair Tool for – BIKE HAND >>> top1shop >>> tiki.vn